Back in early June last year, I went to Gibraltar and Spain for a week on vacation and came back to find that my students had taken their final exams and stopped coming to class. Which, fair, it's summer vacation. I spend a week or two sitting around the Dar Chabab (my last lesson plan is dated June 12, but I don't think I actually taught it). After a week or two of spending an hour every evening sitting in front of the Dar Chabab, I gave up and told my mudir I'd be back in September. The Dar Chabab was closed for July and August anyways, and I didn't see the point of walking across town if nothing was going to happen. Also, mid-June was the first of the really bad heat waves and I started spending my days in my apartment, refusing to wear pants. Pants were the worst.
I weathered the summer, mostly by refusing to wear clothes and drinking, I kid you not, about eight liters of water a day. When September rolled around I started periodically visiting my Dar Chabab again, only it was never open. I knew there was a regional meeting for PCVs and mudirs at the beginning of October though, so I waited until then to press the issue.
At the regional meeting, I gave my mudir a tentative schedule. He said it sounded great and also, the Dar Chabab was going to be under construction for the next month. Apparently, the solid walls surrounding the center, yard and soccer field were giving the Dar Chabab a bad reputation, and so the walls were being knocked down and replaced with a metal slat fence. Come back in November.
I went to Italy at the end of October, came back with the plague (actually bronchitis and the start of four months of respiratory issues) and by the time I could stand up without getting dizzy, it was mid-November. I drug myself out of bed and across town to Dar Chabab, only to discover that it was still under construction. Very under construction.
Well, maybe they'll do something about the bathroom situation (it was mostly used to store bikes)
, I thought. By mid-December, I had been assured that the Dar Chabab would be opened by early January. Or else.
My family came to visit over Christmas, and once they left I, once again, walked out to the Dar Chabab, which was no longer under construction, but was also not open. I talked to my host family, who told me that the Dar Chabab would re-open after the Prophet's Birthday. A few days later, I ran into my mudir at souq and we hashed out a tentative schedule and I finally – finally – started classes February 13, eight months after I taught my last class.
Jesus Christ.
It wasn't like I didn't do anything during those eight months. I worked at a camp over the summer and helped Peace Corps write a manual about language immersion camps. I did a couple of projects at a friend's school and helped my sitemate with her classes. But the longer I went without working, the easier it became to just not leave my house. I started skipping Couscous Friday and dodging invitations to tea and started to have more and more trouble speaking Arabic. I wasn't bored, because I don't really get bored, but it wasn't healthy and I wasn't exactly happy.
I started out teaching three classes: a beginner's class, an advanced class and a Bac class (high level grammar class for students preparing for the high school exit exam). My core group of students from last year graduated, but I have a few return students and a whole crop of girls from the local high school who are absolutely fantastic and really dedicated. (Of course, there's also Fouad, a return student from last year who comes to every class, whether it's the right level or not, asks me to teach him communication and then refuses to talk. *sigh*) I have a tentative schedule drawn up through early June and I'm really excited about my classes.
Then last week, two guys came up after my "advanced" class, which wasn't super advanced (four students spoke zero English) and asked if I had a more advanced class. Like, one that was actually advanced. And conversation based. And maybe not so full of children.
"I *can* have that class," I told them. "Let's ask the mudir when there's a free room."
So Yassine, Abdallah and I went to the mudir's office to schedule another class, and when the mudir started to make noises about how the Dar Shabab was too busy for another English class, Yassine took over and argued until we had a classroom.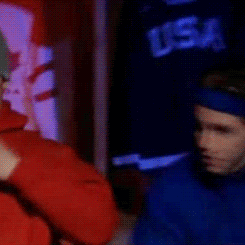 Our first conversation class was yesterday. I printed off an article about the effect of linguistic diversity on the Moroccan education system, wrote a bunch of questions in a vain hope of keeping the conversation flowing and hoped for the best. I tried to teach conversation classes last year, but it was like pulling teeth to get the kids to actually talk and I was skeptical of actually getting students to talk for a full hour, much less have an actual debate, but we had an hour-long conversation about the roll of French and Amazigh in the Moroccan education system, the possibility of a secular government (Morocco is a theocracy; it's possible to watch the King at Friday prayer on TV, I know because I watched him yesterday) and evolution (which isn't taught in Morocco).
You can't see my face right now, but it looks a lot like this. -->